Grand Master, Hanshi 10th Dan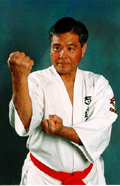 President, Beikoku Shidokan Karatedo Association
IHA DOJO
Original Okinawa Karate
2018 E. Michigan Ave.
Lansing, Michigan 48912
USA
517.482.3217
Iha Sensei:
"I hope for my students to...
Be able to cope with any situation.
Become useful people.
Be responsible for what they do and say.
Be persistent in doing things.
Always strive to be the best person they can be and do the best they can do.
Be bright and able to make decisions.
Face problems with courage.
Take care of themselves (health).
Try through their instruction to help students realize their optimum potential and feel good about themselves."
Iha Sensei focuses on furthering Shidokan Shorinryu Karatedo as the ultimate art of self-defense. A primary goal is to harmoniously work with all Okinawan karate styles to provide a solid understanding and appreciation of this important cultural art. He frequently says, "Friendship and cooperation are most important in karate."
Iha Sensei biography & interview
.
Synopsis
of Iha Sensei's background.

(To top)